Explore Mozart's birthplace with Sixt car rental Salzburg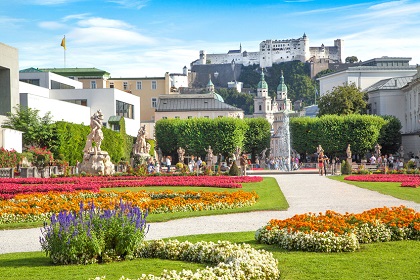 Situated on the banks of the Salzach River just north of the alps, Salzburg is one of the most picturesque cities you will ever have the privilege of encountering - and in case you didn't already know was the setting for the famous musical 'The Sound of Music'. Salzburg is also well known as the birthplace of the composer Wolfgang Amadeus Mozart, and the city is not shy about showing this off. During your time here you will be able to visit his official birthplace and find his face plastered on almost everything; from mugs, posters and even his chocolate balls. The city of Salzburg itself is rather small and most major attractions are manageable to reach and explore by foot. If you are feeling active you can take the ascent up to the Festung Hohensalzburg, an impressive fortress which overlooks the city and offers incredible views of the Alps and rolling plains which surround the city. Once you are done with the centre, our car hire Salzburg services will allow you to break away from the city and explore the stunning surrounding areas. Within 45 minutes by car hire you can drive to Chiemsee - a large lake just over the German boarder and home to Herrenchiemsee, one of King Ludwig's amazing castles. Taking your Salzburg hire car a little bit further will take you over to Munich - one of Germany's most beautiful cities and where Sixt was founded, so we are a little biased. As this city is situated perfectly for further exploration you may be pleased to hear that Sixt car hire Salzburg offers the option of unlimited mileage, SAT NAV systems, breakdown cover and third party insurance to ensure you can travel without restriction or worry.
How can I rent a car in Salzburg with Sixt
When you are next in the wonderful Austrian city of Salzburg there are three easy ways in which you can find a great car hire deal with us:
✔ Online: Before you arrive you can use our online reservation engine to input your desired dates and select the vehicle category which best suits your needs, you will be then given an instant quote on your Salzburg car rental and the ability to pay ahead of time. This is the best way to ensure that you take advantage of our best deals and can guarantee your hire car will waiting for you when you arrive.
✔ Telephone: By calling our car hire Salzburg branch ahead of time you may speak to one of our experienced members of staff about all your rental needs. We will be able to discuss the possible options available to you and come to a great solution for your time in Salzburg.
✔ In branch: If you are pressed for time you can simply pop into our Sixt car hire Salzburg branch when you arrive. Look out for our bright orange sign and walk inside to be greeted by our friendly members of staff. We will be able to view which vehicles are available on the day and organise a great rental deal.
No matter when or how you find yourself in this wonderfully historic city, we look forward to handing over the keys to your next Salzburg car hire and helping you along your way. If you would like to read further information about this beautiful town, please feel free to check out our guide to Salzburg, which was recently posted on our official blog.