Renting a car in Augsburg
Car hire in Germany with Sixth is as easy as pie: with vans, convertibles, 4x4s and luxury sports cars we have a car rental package for everyone. LDW insurance options and unlimited mileage mean your care hire experience can be hassle free. Plus, our fantastic deals for under 25s and additional drivers ensure that we can always satisfy your car hire needs. If you're flying to Augsburg Airport, we're also able to have your car waiting at the airport, so you can simply fly then drive. With Sixt, your car rental can be truly convenient.
What to do in Germany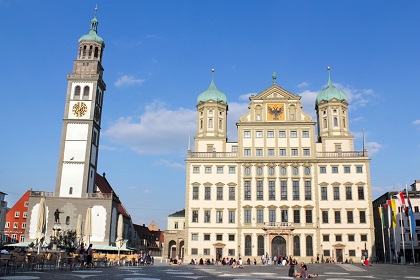 Founded in the first century BC and named after Emperor Augustus, Augsburg has grown to become a thriving industrial town boasting a university, numerous bars and restaurants and multiple sights of historical significance. The town hall is a renaissance masterpiece - its "Goldener Saal" being renowned for its golden wall decorations and painted ceilings. The town synagogue is one of only a few to have survived the second world war, and and the Walter Art Museum - located at the Glas-Palace offers a wealth of visual arts. The once bustling canals now play host to Kayak racing, and if you do enjoy outdoor activities then it's only around an hours drive to Ipt, a 668m mountain offering stunning views of Germany's countryside. If you'd rather unwind and let your hair down, you can try some of Germany's famous pubs and clubs, with numerous watering holes to satisfy the local student population. However you decide to enjoy Germany, we're sure you won't be disappointed.