Renting a Car with Sixt in Braunschweig
Car rental with Sixt makes getting around Braunschweig hassle free. Since every travellers needs are unique, our company strives to provide a large selection of vehicles so you can find the ideal car hire. Drivers may choose from economy or compact cars, convertibles, vans, SUVs, as well as luxury models. Additionally, for your piece of mind, loss damage waiver insurance, personal accident protection as well as tire and glass coverage are available upon booking. To make the driving experience even better, we also offer unlimited mileage on certain models. If you are flying in to the city, be sure to take advantage of our many car hire deals at the Braunschweig Airport office.
What to See and Do in Braunschweig, Germany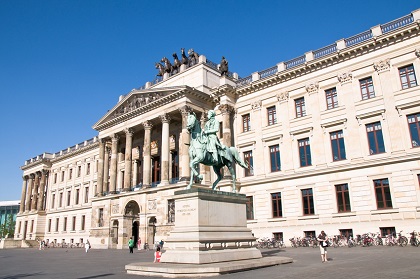 Located in the Germanic state of Lower Saxony, the charming city of Braunschweig offers wonderful sights and cultural attractions. After parking the rental car at the city centre, visitors can wander over to the Burgplatz, the Castle Square, to view the beautiful historic architecture including the St. Blasius Cathedral, the Dankwarderode Castle and the Neo-Gothic Town Hall. In the middle of the square stands a statue of the Brunswick Lion, the indisputable symbol of the city. Additionally, people interested in Baroque architecture can drive their car rental to the Richmond Palace on Wolfenbütteler Strasse for a tour of the beautiful buildings and grounds. So as not to miss the modern style of this complex city, a visit to the Happy Rizzi House, a masterwork of cartoon-inspired architecture by the New York artist James Rizzi, is a must. As for the cultural programme, Braunschweig has a large array of events covering art, music, theatre, drama and dance. After a day exploring the city, visitors can enjoy a performance at the State Theatre. Whatever your car rental needs may be, our company will have you on the road in a friendly and efficient manner.