Our car hire services at Frankfurt Am Main Airport (FRA)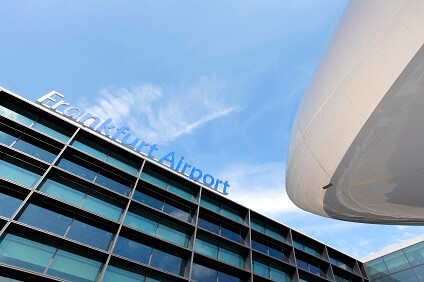 Copyright: Fraport AG
Drive in style with Sixt and enjoy the comfort of one of your premium hire cars. Our on-site car hire branch at Frankfurt Airport is located in Terminal 1 in the Car Rental Centre on Level 0. Premium customers can also enjoy the Diamond Lounge which is situated directly opposite the Sixt desk in the Car Rental Centre. Our friendly and local team are on hand to welcome you all day 5am/6am to midnight Monday to Sunday, including on public holidays. We also operate a 24 hour vehicle return service so that your rental is fully flexible to your schedule. We offer a superb fleet of modern and high-end vehicles to choose from, ranging from economy cars to luxury convertibles, SUVs and sports cars. Personalise your rental package with additional extras such as child car seats, and enjoy unlimited mileage, one way hire and long term rental deals. We wish you a pleasant journey and look forward to your arrival.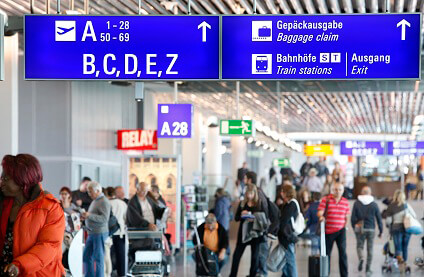 Copyright: Fraport AG
Explore Frankfurt with us
Due to its central location within Germany and Europe, Frankfurt is a major air, rail and road transport hub with Frankfurt Airport being one of the world's busiest airports. The airport is situated just under 8 miles from the city and is also a gateway for the rest of Germany and even Europe, so car hire from Frankfurt Airport is a popular way to travel onto the next destination, whether for business or pleasure. The city of Frankfurt has an iconic skyliner, with modern skyscrapers and grand historic buildings. A sophisticated and stylish city, Frankfurt offers culture, history and cosmopolitan shopping, dining and nightlife options. Enjoy classical or modern music at the Alte Oper (Old Opera), the former opera house of Frankfurt but which now functions as a renowned concert hall, or indeed indulge in an opera at the Oper Frankfurt (Frankfurt Opera). Opernplatz, where the Alte Opera is situated, rewards with stunning architecture with old next to new with the ultra modern office building Die Welle (the wave), completed in 2003. Head to Zeil, Frankfurt's central and most busiest shopping street, with an exciting array of high street and retail store chains. For a truly indulgent shopping spree, shop for Prada, Louis Vuitton and more on Goethestraße, located between the financial district and the city centre from Goetheplatz to Opernplatz. For something a little more green, Frankfurt offers many parks and protected spaces including the Frankfurter Grüngürtel (Green Belt), a green public space surrounding the city including forest, rivers marshes and even a vineyard!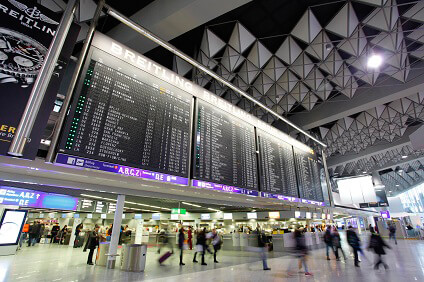 Copyright: Fraport AG
Find out what our customers say about us!