Sixt car hire in Slovenia
Use a car rental in Slovenia with Sixt and benefit from offices throughout the country making car rental easy. There is a wide range of vehicles available to suit every need. So if you are looking for a convertible or a 4x4, luxury or sports car, we will be able to offer the rental car of your choice. We also offer additional extras which you can include in your car hire deal; additional drivers, unlimited mileage, and sat nav rental to name a few. Fly and drive deals are available from three airports in the country, namely Portoroz, Ljubljana and Maribor. Further rental bases can be found in Brnik, Bled, Celje, Kranjska Gora, Koper, Novo Mesto, Orehova Vas, Rogaska Slatina and Secovlje, so you can be sure you can easily get hold of a Sixt car rental in Slovenia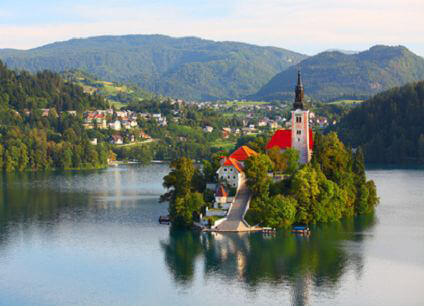 Slovenia's driving rules
As you take your car hire in Slovenia it may be helpful to note some of the following road rules.
Vehicles in Slovenia drive on the right-hand side of the road.
Traffic approaching from the right has priority and this is especially important on roundabouts where traffic entering has priority over those already on the roundabout.
Dipped lights must be used at all times while driving in Slovenia.
Well maintained toll roads with a speed limit of 80mph cross the country and a vignette, or sticker, must be purchased prior to driving on these roads. Smaller roads have speed limits of 30mph for urban and 60mph for open roads. They are less well maintained than the toll roads.
Potholes and puddles should be avoided as they can severely damage your car.
Children under 12 years old are not permitted in the front seat and blood alcohol limits are 50mg/100ml.
Mobile phones are not permitted while driving.
Driving your car rental in Slovenia will quickly become easy with this information.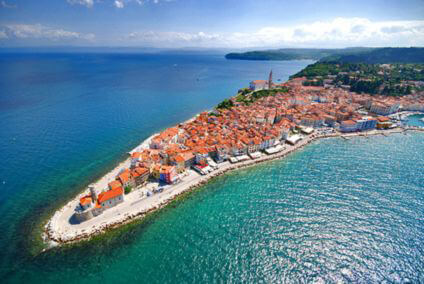 Travelling around Slovenia in your car rental
Slovenia enjoys a fantastically diverse landscape. From the lakes of the Gorenjska region to the peaks of the Goriska region; the coastal Karst region and the historic and cultural central Slovenia, there is so much to see throughout the country. Make the most of your car hire from Sixt and explore the diversity Slovenia offers.