A ticket to ride with Sixt car hire Liverpool
No matter what kind of rental vehicle or service you are looking for, we can work out! Our comprehensive car hire fleet ranges from small economy cars, family saloons, 4x4s, convertibles and even luxury cars to take you down the long and winding roads of Liverpool in true style - our rental fleet is so encompassing you will be able to find almost anything to suit your needs, although we currently do not have a yellow submarine. If you are visiting this vibrant city with a sports team or large group of friends and family, Sixt also offers many high quality minibuses in Liverpool for a great price. Unfortunately, our Sixt car hire Liverpool branches cannot be open eight days a week, but they are open seven - with extended opening hours and 24 hour vehicle return to ensure that your experience with us will not be restricted and we will be able to fit your schedule. If you are just a day tripper, you will be pleased to know that we offer one day car hire for when you are planning on a flying visit or need a rental car for a short excursion.
Don't slow down with Liverpool car rental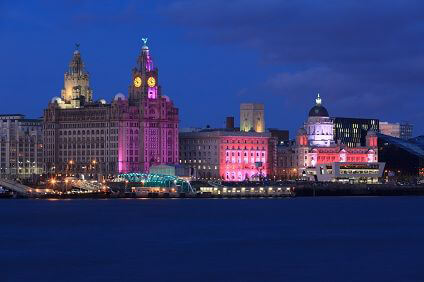 The wonderful city of Liverpool is one of the United Kingdom's largest and fastest developing cities, with a population that will soon reach half a million. Being such a metropolitan and fantastically historical city, Liverpool has a plethora of attractions to see and places to visit. A great place to start would be the Merseyside maritime museum. Liverpool was actually the registered port of the infamous Titanic - although her maiden voyage started from Southampton the Titanic carried the name "Liverpool" on her stern as a tribute to her registered city. The maritime museum displays many objects from and relating to the Titanic and offers a wonderful insight to this fascinating piece of world history. As the birthplace of The Beatles there are naturally reminders of the iconic band throughout the city, including The Beatles Story museum and a couple of bars claiming to be 'original' Tavern - the bar in which legend has it that The Beatles played their very first gig. Whether you are planning on taking a cruise down Penny Lane, venturing out of the city to find some strawberry fields in the countryside or need a car for business, our Sixt car hire branches will offer you a great value solution. So from us to you, we wish you a pleasant stay in Liverpool!
Other Car Hire Categories in Liverpool
Luxury Car Hire Liverpool

Convertible Hire Liverpool
Minibus Hire Liverpool

Van Hire Liverpool