Our car hire services at London Heathrow Airport T5
Welcome to the ultimate in premium service and style with a hire car company that delivers excellent service and good value rental cars. With our hire car service at T5, you can enjoy:
5 minutes from arrivals
No shuttle bus
No extra charge & on your way in minutes
Our office is located in the Sofitel Hotel at the Airport Terminal and our parking spaces are situated in the Sofitel Hotel Car Park, see below for full details on how to find us and your car. The Sofitel Hotel is a short distance from the Arrivals and Departures areas, and there is no need to take a shuttle bus. We have 24 hour hire car collection and return so your hire car experience is fully flexible to your schedule - whatever the time of your flight, your hire car will be waiting for you and you can return it when you need. Our staff are available on the desk from 6am to 11pm Monday to Sunday and on bank holidays. If you are flying into London Heathrow Airport Terminals 1 - 4, then our Heathrow Airport T 1-4 Branch may be more convenient for you.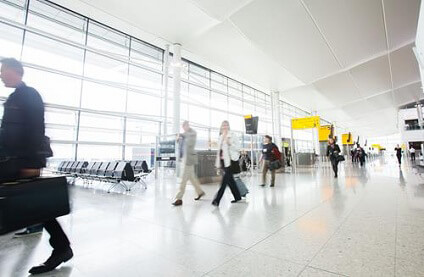 Copyright: Heathrow Airports Limited
We have an extensive range of modern hire cars, all 6 months old or less, ranging from small city cars to large family estates and nippy sports cars to tough 4x4s and SUVs. From economy to luxury hire cars, our range caters for all tastes and budgets including models from brands such as Ford, Fiat, BMW, Mercedes-Benz and Audi. If you are looking for the ultimate in premium luxury and prestige car hire then browse our Heathrow Airport Luxury Cars Branch page. We offer a full range of optional extras, including sat navs, child car seats and winter tyres, as well as flexible rental terms such as unlimited mileage, additional drivers, one way hire and long term hire.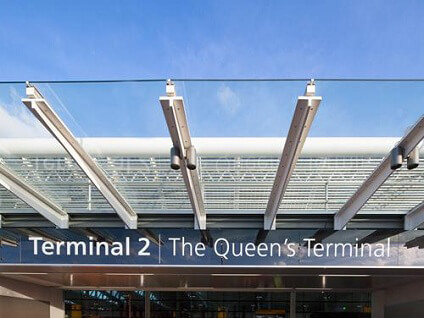 Copyright: Heathrow Airports Limited
Car Pick Up
After leaving the baggage claim area please follow the sign "UK Arrivals, Car Rental, Sofitel" straight ahead. You will then pass the exits of Heathrow Express and London Underground on your left hand side. After that you will see the exit that leads to the local buses, car rental buses and taxis. Please do not take this exit but head to the elevators in front. Inside you will find a Sofitel button that brings you to the first floor. Upstairs please turn right and follow the long hallway straight ahead. You will find the Sixt counter at its end on your left hand side. The Sixt car hire at Heathrow Terminal 5 parking spaces are situated in the Sofitel Hotel car park which is close to the lift on the 1st floor.
Car Drop Off
Please take exit number 14 when leaving the M25. After 0.7 miles you will arrive at a large roundabout, take the second exit to "Terminal 5, short stay". Please follow the road and stay left at the sign saying "Overheight vehicles, Sofitel Hotel". Shortly after that you will find a direction sign saying "Overheight vehicles, Sofitel Hotel, Exit". Then please stay left again.You will see the Sofitel Hotel in front of you. Follow the street around the hotel until you see a sign leading you to the left into the Hotel Car Park. Please enter the car park. You will find the Sixt Heathrow Terminal 5 car hire parking spaces near the car park entrance.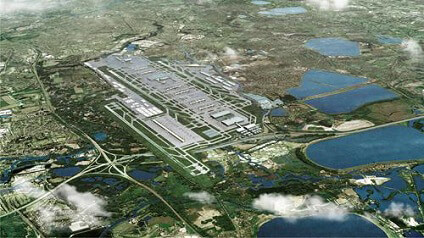 Copyright: Heathrow Airports Limited