Our car hire services at London Gatwick Airport (LGW)
Drive premium at a good price with Sixt at London Gatwick Airport for easy access to London, England's South Coast and the rest of the UK. It is easy to find our car hire desk at Gatwick Airport - we have stations in both the Airport's North Terminal and South Terminal. We are in the Car Rental Area of the North Terminal, on the Upper Level from the Arrivals Hall. For the South Terminal, please exit outside and we are in the Car Rental Area outside near Bus Stop Number 1. For the utmost convenience, we are open from 6am to 11pm Monday to Sunday, including bank holidays. Plus, we offer a 24 hour car hire return and key box so that you can drop your car off whenever it suits you and your onward travel. We are experienced in supporting tourists, domestic and business customers, and we have a wide range of rental cars at from cute economy vehicles such as the Fiat 500 to premium rides like the BMW 1 series. For a truly special experience, our London Gatwick Airport Luxury and Prestige Hire Car Branch can deliver an opulent experience and drive from Gatwick.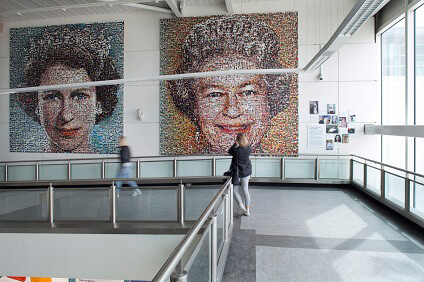 Copyright: Gatwick Airport
Our luxury car range includes Aston Martin, Bentley, Porsche and BMW. In addition to our extensive rental car range, we offer sat navs, child car seats and unlimited mileage on your rental period, plus you can benefit from a full tank of fuel when you pick up your rental car in Gatwick. We also offer one way hire, so if you are driving to London or further afield, then check out our London Car Hire pages to see where you could finish your journey. Sixt aims to put our customers' comfort first with easy check in online, via the Sixt App or at the Airport desk in person. You can also use our app to select your vehicle make and model when picking your hire car up.
London Gatwick Airport
Sixt at Gatwick Airport is the busiest international airport based in the south of London. Being so close to the captial, Sixt's Gatwick branch is great for business users commuting to London as well as tourists on visits to the UK. London, home to the Queen and the houses of Parliament, is full of rich history and a great place for tourists over the world. With so much to see Car hire in Gatwick is really popular for sightseeing. As well as London's great history, visitors will also get the chance to visit some of the world famous football clubs Arsenal, Tottenham Hotspur and West Ham. There are also many great sites outside of the Captial city, with Sixt car rentals in Gatwick, you can visit Thorpe park, the second biggest theme park in the UK, or take a visit to Brighton beach.

Copyright: Gatwick Airport
✔ Unlimited Mileage Included
✔ Sat Nav Bookable
✔ Third Party Insurance ✔ Free Rebooking & Cancellation