Our car hire services at London Stansted Airport (STN)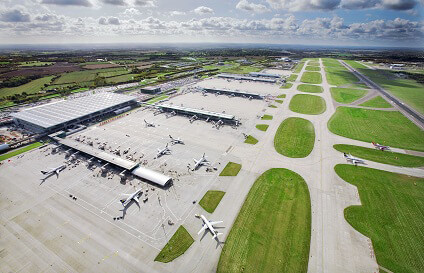 Copyright: London Stansted Airport
Enjoy premium cars at affordable hire car prices with Sixt. The Sixt desk is located directly in the Standsted Airport Car Rental Village. As well as being conveniently located, we also offer flexible opening times so that your car hire experience is easy from start to finish and you can get on the road quickly. We are open all day, every day, from 6am to 11pm Monday to Sunday, including bank holidays. Just in case your transport is scheduled outside of these times, we also offer a 24 hour car hire return service so you don't need to worry about arriving too early for your flight. Our customers can benefit from the diverse range of cars available at London Stansted Airport, we offer luxury cars from premium brands including BMW, Audi and Mercedes-Benz, as well as family and city cars from VW, Citroen and Ford. Making a reservation with us couldn't be easier - simply use our online reservation engine above, book on the Sixt App or find us at the Airport. You can also use the Sixt App to browse our vehicle selection and choose your hire car once you are ready to collect your car. Enjoy your drive into London, Cambridge or the rest of the UK with our wide range of cheap economy and luxury cars, including family cars, convertibles, 4X4s or prestige. Rent a car with us and select all the extras and enhancements you need, from car hire insurance to unlimited miles. Our team look forward to serving you soon.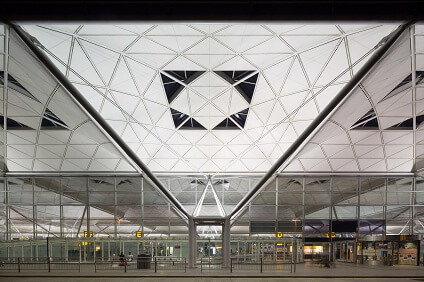 Copyright: London Stansted Airport
About London Stansted Airport
Have a great flight to or from Stansted airport. This airport is located on the outskirts of the city, so is ideal for those travelling either into London or further up north. It offers a range of facilities for business, children and disabled travellers, to ensure your landing is as enjoyable as your flight.
Explore Stansted and London with us
Stansted Airport provides easy access to London, only 35 miles north of London and connected by the fast M11 motorway. The capital city has a wealth of historical, cultural, shopping, family and nightlife activities which rival any city in the world. For more on what you can experience in London, take a look at our London City Page. Stansted is also 30 miles from Cambridge, heading north also along the M11, only a short drive to the beautiful town stuffed full of classic architecture and typical green English countryside. On the drive towards London is Paycocke's House and Garden, a stunning Tudor house and fascinating history, and on the road to Cambridge is the Jacobean Anglesey Abbey, Gardens and Lode Mill, a National Trust estate with heritage property and large gardens and woodland.
Copyright: London Stansted Airport
✔ Unlimited Mileage Included
✔ Sat Nav Bookable
✔ Third Party Insurance ✔ Free Rebooking & Cancellation
Other Car Hire Categories in Stansted
li.topleft { margin-left:20px; margin-right:20px; float: left; } li.topmiddle { margin-left:30px; margin-right:20px; } li.topright { margin-left:20px; margin-right:20px; float: right; } p.categoryp { text-align:center; font-weight: bold; }