Our car hire services at Ibiza Airport (IBZ)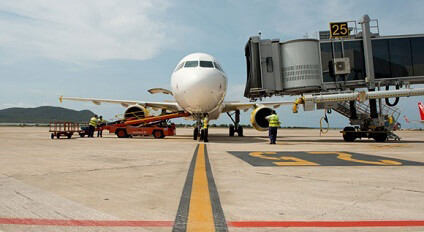 © aena-aeropuertos.es
Drive in style in Ibiza and enjoy your car hire experience with premium service from Sixt. Our Ibiza Airport car hire branch is located on the Calle Aeropuerto de Ibiza close to the airport - simply hop in the complementary shuttle that leaves frequently from the parking area in front of the airport, at lots J23-J24. Our friendly and professional team will be on hand to meet you when you arrive at the branch, which is open all day Monday to Sunday, including public holidays, plus we offer a 24 hour pickup service so you can get your holiday started whenever it suits you. Be excited by our range of modern vehicles including small economy car hire options like the VW polo, convertibles like the BMW Z4, and even supercars like the Porsche 911. Personalise your rental with additional extras such as sat nav, child car seats and additional drivers.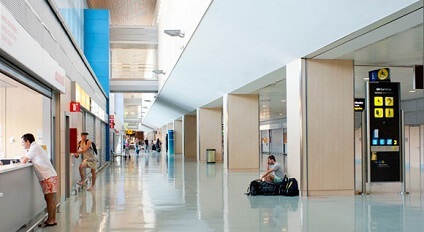 © aena-aeropuertos.es
Explore Ibiza with us
Ibiza is the largest of the Spanish Balearic Islands, in the blissful Mediterranean Sea. It is known as the "white island", although there are a number of theories on how this nickname came to be, including that it references the dazzling white-washed walls of the charming traditional villages such as San Miguel in the North or the white mist that rolls down over Ibiza's rugged hills which actually creates ideal wine growing conditions. It has been the holiday playground to the rich and famous for decades and is well known for its wild clubbing and 24 hour party scene, with Bora Bora beach, Playa d'en Bossa and San Antonio a mecca for hedonists from penniless teenagers to A-list celebrities. Ibiza Town, the capital, has been declared a UNESCO World Heritage Site and offers culture and architectural beauty as well as sophisticated shopping, cafes and bars. As well as the bustling tourist and partying atmosphere, Ibiza also offers tranquil retreats with private villas and hidden beaches basking on the Mediterranean Sea shore such as Cala Xarraca in the North, a favourite for snorkelling. Driving is the only way to access some of these unspoilt areas and car hire provides the flexibility to explore, relax and party according to your wishes. Starting your trip with a car rental from Ibiza Airport ensures that you are enjoying the most convenient, flexible and cost-effective way of transport on the island.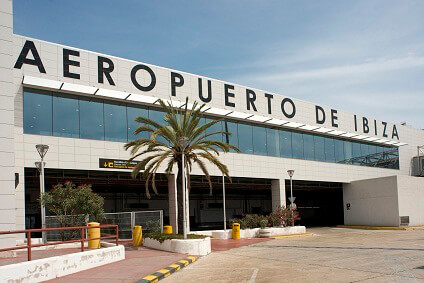 © aena-aeropuertos.es